If I had all the time that I would like to have then I would photograph all the food I am eating here, so far I have only managed one other sausage photo.
Although not all of it is sausage based a lot is.
We have bread with cold meat, cheese and things twice a day (Breakfast and tea) and the cold meat is all different types of sausage cut up.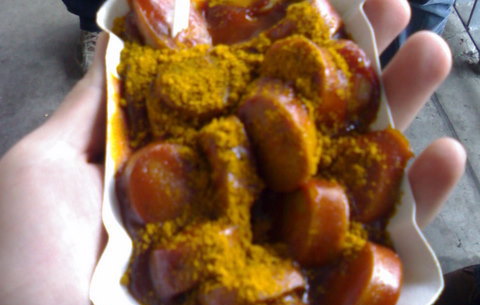 My tactic to cope with the two similar bread meals each day is that I try to eat more sweet things on bread in the morning and meat based bread in the evening.
So anyway the purpose of the post is to explain Currywurst to those unlucky enough not to know it. You can find this on the street in many places and when we recently when to a football match I found a Bovril and pie is replaced here with a bier and Currywust. A Currywurst is a long sausage cut up in to many small pieces covered in a sweet thick ketchup which is then sprinkled with Curry powder.
There ends Sausage photo 2.