As previously mentioned we had great weather on the day we left.
I had packed most of the van the day before, but we were up at 7 to finish the packing and then at 8 Nicole's dad and two Brothers-in-law helped load up the heavy stuff onto the roofrack.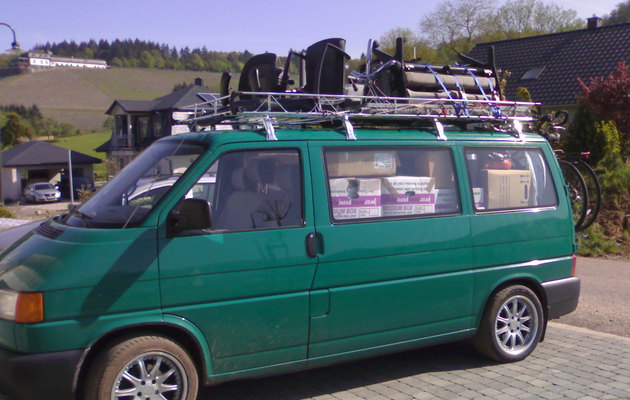 We had a final breakfast with Nicole's parents and Nicole's sister Kerstin and her husband Timo started saying our goodbyes and then I started having problems with the vision in my left eye. The vision problem always happens when I am going to get a migraine. So I took a pill and said my goodbyes not properly being able to see, and not feeling great expecting the headache to begin. Normally when I get a migraine I go and sleep for a couple of hours - mostly to avoid the numbness that I get in my right hand.
We then popped around to see Nicole's other sister Silke and Nicole's nephew Luca to say goodbye. Luca (18 months old) has been a great little friend for me while I have been there. He got attached to my name because it was so easy to say - Al, and I got attached to him because neither of us really understood most of the conversations and everyone talked to us in simple words. I spent a lot of time chasing him around and playing with him.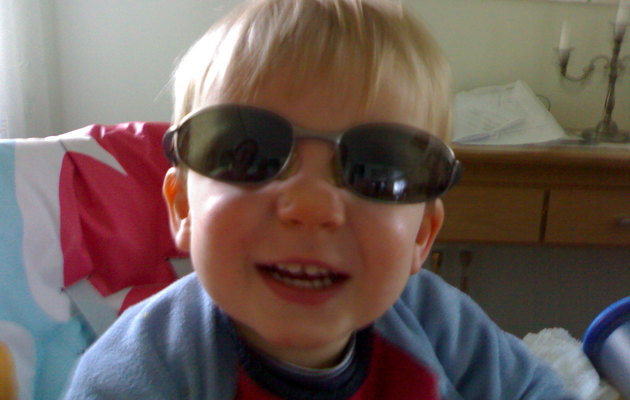 Once we had done our goodbyes we went to do the next most important thing - buy some bread to take with us (the Spanish bread is not as good!). Finally after all of this we got going at about 10:30.
It was about 20 minutes before we crossed the border to Luxembourg and followed the Mosel into France another 20 minutes later. Just as we crossed into France there was a call on Nicole's mobile (Handy as they say in German) I saw it was Nicole's dad so handed the phone to her smiling and saying "What have we forgotten?".
The phone call was Nicole's mum (Hanne) saying that we had a letter from the car insurance company saying that we were no longer insured with them. Hanne had phoned the company up and found out that because we had still not proven that we had a large no claims bonus in the UK they were terminating the insurance. This was particularly frustrating as we had spoken to them the week before about this and they said all we needed to do was change the insurance from Nicole's name to mine and all would be fine. At this point my migraine started feeling even worse.
So there we were just inside France and completely illegally driving - what to do next? Well it seemed there were a few options - either we got some insurance and carried on driving, turned around and went back or we drove on illegally. Nicole was convinced we would not get insurance sorted over the phone (as I would expect in the UK) and I was not happy about going back ("Never go back") but we are also not the type of people to have taken the risk on driving illegally - so what to do?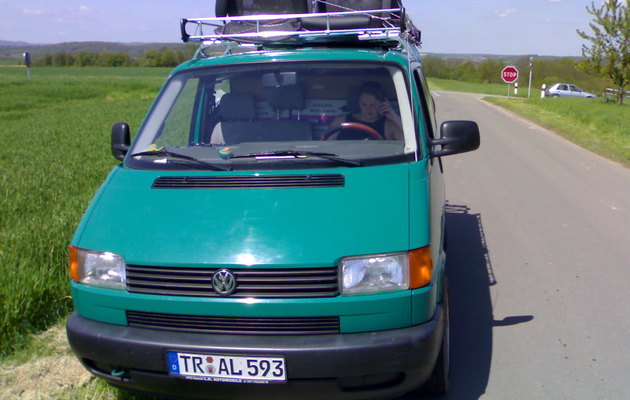 After much discussion we decided to try and sort out the insurance over the phone and after 2 hours we were insured again - phew! (if you look carefully at the picture above you will see Nicole on the phone in the front of the van gong through the long winded negotiations). The reason it took so long was that the situation was not simple with us already being in France - me being British and us needing the insurance that day. It became more complex when Nicole's German phone ran out of pay-as-you-go credit. Then her UK phone refused to phone a German number until we drove back into Luxembourg and were in range of German mobile phone signals again.
The rest of the day went quite smoothly - we drove through France with ease, occasionally stopping but mostly just trucking along. The migraine got better for me - but Nicole started to get some stomach problems.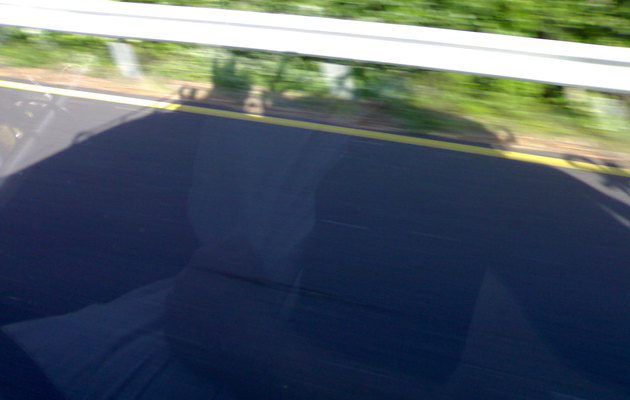 We got within about 200km from the south coast of France by 10pm and decided to look for a campsite. This proved to be quite easy and we got to see some nice bits of France off the motorways.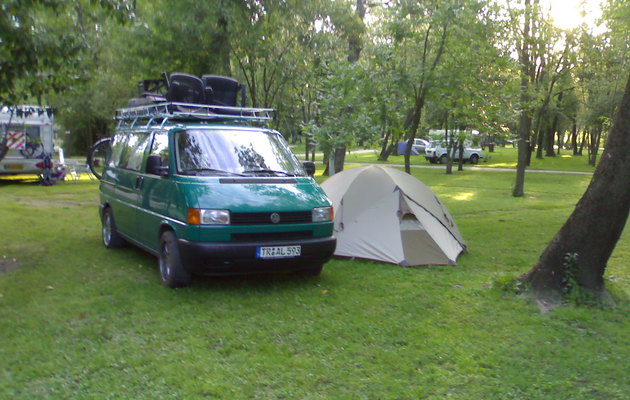 Day 2 of our journey went much more smoothly, the motorway went along the south coast of France and then into Spain and along the cost in Spain. The motorway had (selfishly) been built often as far away as 15km from the actual sea - so we only got glimpses of the sea - but it was still a very pleasant drive.
We got to the flat at 4:30pm and then had to wait an hour or so until the Landlord turned up to let us in - but that was it - the start of a new adventure. By 7pm the Landlord had left and we were in our new home.