Nintendo have launched a new version of their handheld console (DS) called the DSi.
The two main features of the device are 2 built in 0.3 megapixel cameras and an SD card slot. There will be software for playing MP3 software included as default as well as camera software. The Gameboy cartridge interface has now been removed so it is no longer backward compatible with the Gameboy. There is a Nov 1st launch in Japan and Spring 2009 for Europe.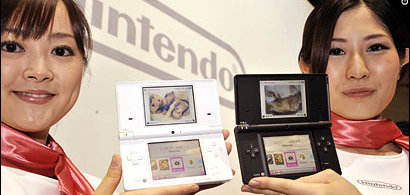 This is an interesting move - especially if this is part of an evolution for the DS. I hope Apple are paying attention to this - and not just because Nintendo have put an i in their product name. As I wrote a few weeks back - Apple have started to position the iPod Touch and iPhone in the gaming marketplace in addition to the MP3 market and phone market. The DS has always had Wifi - but in most cases this is under used by games and software - but it is slowly getting there. I think the DSi as a gaming and MP3 platform will be very attractive to younger children and it is a real pity that the DS doesn't have an open way for 3rd parties to write and distribute software to compete with the iTouch/iPhone/iTunes model.
The addition of the SD card though removes a fundamental problem that the DS has and that was that games could not be downloaded because there was not enough writable storage to put them on - not any more.
I hope that this is the first step in the evolution of a great and innovative platform - and that it will be opened up in the same way that the Wii has - and gets a good delivery platform also. It will be interesting to see if they start making the OS updatable too.