The mainstream press is now analysing the attack Apple is making into markets that have been dominated by Nintendo and Sony previously as discussed previously.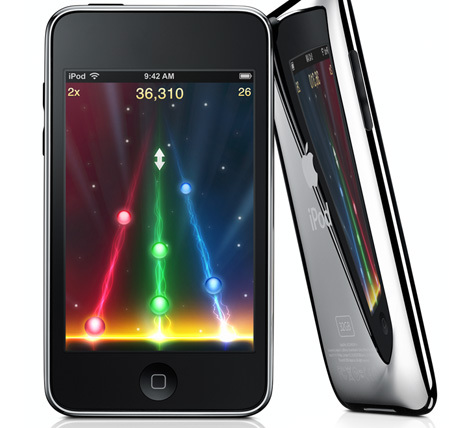 A Wall Street Journal article states that large & established game publishers such as Sega are turning to the i Platform in addition to smaller startup and niche publishers like ourselves. The article puts part of the attractiveness of the platform down to the low costs of entry and simple distribution mechanism.
In the article Sega talk about how attractive the platform is to them and infers that the difference to them in terms of profits on a $10 iPhone game compared to a $40 ds lite game is not much.
Steve Jobs is quoted as saying that this Christmas will really shake things up and that the holiday sales of the device could shift the iPod Touch into being considered a gaming device by both consumers and publishers.With the 2000 titles already available for the platform about 25% of those downloaded have been games.
The article also highlights how a lot of games are either free or advertising supported - which is another interesting trend to watch.
The Wall Street Journal mentions an iPhone user who has sold his PSP and will sell his DS lite as he plays far more on his iPhone and loves the single device and ability to listen to his music whilst playing.
An opinion piece in Business week talks about how surprisingly good the iTouch and iPhone platform is for games. It also provides estimates for the sales of iPod Touch and iPhones globally at 40 million by the end of the year. Which would put it ahead of the DS lite which has sold 42 million devices - but in 18 rather than 12 months.
All very impressive and mean that Apple is continuing to highlight to the mobile operators how wrong they have got both supporting developers and providing simple distribution systems for users and developers.
For education I think this means that the i platform is extremely attractive to students as the overlap into their own interests and needs means purchasing and using a device is not a barrier.
If only there was a keyboard on it - I think Apple could rule the education marketplace too.